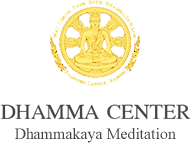 This Website, www.dhammacenter.org, is hosted by Wat Luang Phor Sodh Dhammakayaram and the Wat Luang Phor Sodh Buddhist Meditation Institute (BMI), an associated institution of the World Buddhist University.
The Website is one of our many international outreach programs with the main purposes of propagating:
The right Buddhist meditation knowledge so that all may have right practice,
The right understanding of Dhammakaya Meditation method, and
The right practice of Dhammakaya Meditation for world peace.
The other international outreach programs include:
Meditation retreat for English speakers,
Monthly Sunday Dhamma Talks on National Broadcasting System of Thailand which are also downloadable,
Publication of English language books to help others understand Buddhism andto understand the practice of Dhammakaya Meditation.
If you have any questions, please feel free to email us, somkuanyim@gmail.com
Wat Luang Phor Sodh Dhammakayaram Dammnoen Saduak District, Rajchaburi Province 70130, Thailand.
(+66) 81-837-8457

English & Thai Phra Somkuan
Inside Thailand, call 081-837-8457
Outside Thailand, call +66-81-837-8457